All commercial real estate transactions can be sent to Bianca R. Montes at [email protected].
A fund sponsored by CBRE Investment Management – formerly known as CBRE Global Investors – has acquired a 952,764 square foot logistics park located outside of Fort Worth in Haltom City. Known as the 820 Exchange, the property consists of four newly constructed Class A logistics assets that are currently 72 percent leased to three tenants.
This investment is in line with the company's recent creation of a globally aligned sector logistics team and its commitment to scale up logistics efforts. Other recent acquisitions under this goal include a development site in Tracy, Calif. To build a state-of-the-art logistics center in partnership with Trammell Crow Co., and a portfolio of logistics assets in Atlanta, Baltimore and Chicago via a joint venture with Duke Realty Corporation.
"This particular asset is one of the most recent developments in a land constrained submarket; the first fill location provides an interstate frontage and immediate access to key consumer and worker populations in the surrounding area, "said Mary Lang, head of direct logistics strategies for the Americas and portfolio manager for CBRE Investment Management .
INDUSTRIAL
Plano-based Samitrode sold 11.23 acres to 300 North Loop 12 in Irving. The buyer, Johnson Development Associates, Inc. of Spartanburg, SC, plans to develop a 170,000 square foot cross-dock warehouse. Dan Spika of Henry S. Miller represented the vendor.
LSC Communications MCL renovated 82,093 square feet at Patriot Drive II in Coppell. Jeremy Kelly and Sarah Ozanne of Stream Realty Partners represented the owner, JP Morgan Asset Management.
Southern california Tyler Family Estate added to its Dallas-Fort Worth portfolio, purchasing a 28,000 square foot fully leased multi-tenant industrial building at 321 N. Rogers Road in Irving. Jason Finch and Noah Dodge of Bradford Commercial Real Estate represented the buyer. Jason Moser and Jamie Jennings of Stream Realty Partners represented the Seller, LFH Rogers, the Seller.
Whitebox Real Estate, LLC recently represented
Texas Builders Insulation leased 16,000 square feet at 916 Avenue M in Grand Prairie. Ben Crancer and Brendan Zrwoka of Whitebox Real Estate represented the tenant, Builders' Insulation of Texas, and Michael Stanzel of NAI Robert Lynn represented the owner.
Southern Appliances leased 12,000 square feet at the Berry Business Center in Fort Worth. Jeff Rein and Matt Blackburn of Stream Realty Partners represented the owner. Calvin Wong of Engvest Group / EXP Commercial represented the tenant.
Monarch metal leased 11,956 square feet at 1330 Post & Paddock Street in Grand Prairie. Ben Crancer and Brendan Zrowka of Whitebox Real Estate represented Monarch Metal and Tobey Stoffregen of LPC represented the owner.
EARTH
Capital of larkspur purchased nearly 9 acres in West Dallas to develop into a 146 unit multi-family home. Located on Fort Worth Avenue in West Dallas across from the Belmont Hotel, the company said the rental community will include green spaces with walking trails, dog trails and pocket parks, as well as a club- house and a swimming pool. Lane Kommer with Henry S. Miller facilitated the sale of 5.83 acres. Jake Milner and Scott Lake of Davidson & Bogel Real Estate have sold an additional parcel representing most of the remaining acreage for a total of 8.6 acres under development.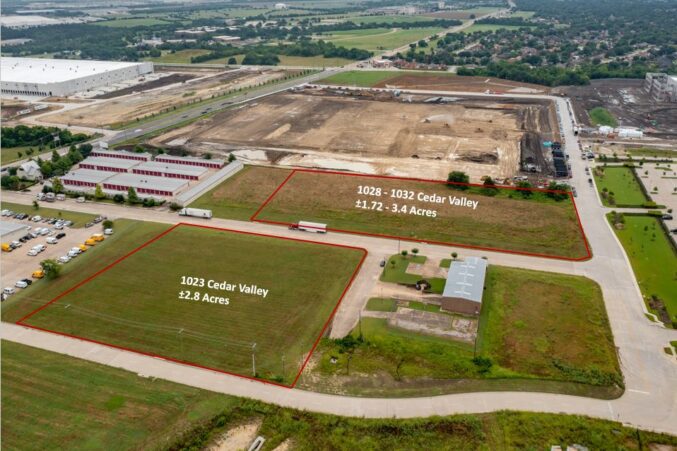 HSM Valley of the Cedars recently purchased 6.3 acres of land from Lancaster for future industrial development. The property, Cedar Valley Industrial Land, consists of lots 2A, 4 and 5 on Cedar Valley Road. Mark Smith for HSM Equity Partners will develop the land. A 48,500 square foot building is planned on 3.4 acres, with the remaining area set aside for custom construction. Huntley Luna and Nick Robinson of Henry S. Miller's industrial division negotiated the transaction. Brett Hess with Hi View Real Estate represented the seller, WW Legacy.
An undisclosed buyer purchased 1.45 acres from 500, boulevard S. Buckner in Dallas. Brian Sladek and Colin Cannon of RESOLUT RE represented the purchaser. Logan Garrett of Hi View RE represented the vendor.
SEVERAL FAMILIES
Marcus & Millichap sold five multi-family properties with a total of 1,109 units to DFW. The assets were sold over a two-week period in September 2021 for approximately $ 113 million. Al Silva and Ford Braly represented buyers and sellers.
The properties are:
Copper Creek II, 236 units built in Fort Worth in 1979
The Woodlands, 346 units built in Fort Worth in 1985
Cedar Point of Arlington, 272 units built in Arlington in 1977
Westwood, 187 units built in Dallas in 1969
Milagro, 68 units built in Fort Worth in 1968
CBRE announced the sale of three multi-family properties in Dallas-Fort Worth: Biltmore Apartments in Arlington; Park Lane Apartments in Arlington; and Cedars Apartments in Cedar Hill. Legacy REI and Casa REI purchased the properties from Macdonald Realty. Chris Deuillet and William Hubbard, of CBRE Capital Markets' Dallas multi-family team, represented the seller in lease negotiations.
The properties represent a total of 466 multi-family units across DFW:
Biltmore Apartments – 186 unit property located at 2300 Misty Ridge Circle in Arlington, Texas
Park Lane Apartments – 248 unit property located at 3100 E. Park Row Dr. in Arlington, Texas
Cedars Apartments – 32 unit property located at 315 Cedar St. in Cedar Hill, Texas
Red Crescent Communities sold two multi-family communities in Dallas: NOVEL Bishop Arts and NOVEL Deep Ellum. Both developments represent the strategic interest and growth of Crescent Communities in the Dallas market. NOVEL Bishop Arts was sold to Barvin in July 2021 and NOVEL Deep Ellum was sold to Equity Residential in August 2021.
Riverside Park, a 136 unit apartment community located at 1521 E Royal Lane in Farmers Branch, sold. Zach Thomas and Mark Allen of Greystone ISG negotiated the transaction.
Oak Creek, a 109-unit apartment community located at 2710 W. Walnut St. in Garland, has been sold. Mark Allen of Greystone ISG negotiated the transaction.
OFFICE
MMC Group remodeled 13,549 square feet at Crestview Tower in Irving. Rhett Miller, Tim Terrell and Shannon Jenkins with Stream Realty Partners represented the landlord, CP II Crestview LP Swearingen Realty represented the tenant.
TeamSupport leased 5,228 square feet at Pinnacle Tower in Dallas. JJ Leonard, Chase Lopez and Kristin Millington with Stream Realty Partners represented the owner, 5005 LBJ Tower LLC. Cushman & Wakefield represented the tenant.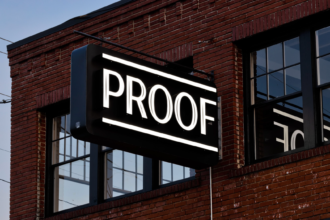 EVIDENCE, the historic Adaptive Reuse Project in Fort Worth is now 100 percent leased with the recent addition of General public – a branded company formerly known as Evangelist. The general public joins Bowlounge, Witherite Law Group, Trinity REIS and GSBS Architects in the 40,665 square foot space originally built in 1926.
Automotive FinTech company Lender Compliance Technologies signed a lease for their new headquarters at Champion Crossing at 930 S. Kimball Ave. in Southlake. Noreen Mehdi Weathers of CBRE represented the tenant in rental negotiations with landlord Denmiss, LLC. Debra Perryman of Silver Oak Commercial Realty represented the owner. LCT will occupy the space in October 2021.
Fairway Independent Mortgage Company leased 2,763 square feet at 1333 Corporate Drive in Irving. Chad Littleton and Morrow Hill represented the tenant and Allison Fannin represented the landlord, Hartman Income REIT.
Osman Centinkaya, a renovated 2,261 square foot individual at 12850 Hillcrest Rd in Dallas. Lynna Smith represented the owner, Hartman Income REIT.
Excel Performance Medical Center remodeled 2,195 square feet at 12850 Hillcrest Rd in Dallas. Lynna Smith represented the owner, Hartman Income REIT.
RESIDENTIAL
The ground has been broken for Bakery Farms, a new residential community offering 270 units in Cleburne. The community will include homes built by Impression Homes and Sandlin Homes, and prices will start in the $ 300,000 range for an average 2,500 square foot home. Delivery of the lots is scheduled for the third quarter of 2022 and home construction will begin in the fourth quarter.
RETAIL SELLING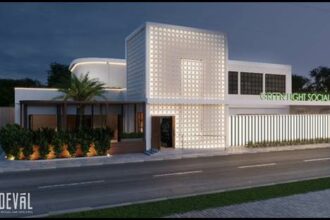 Social green light will open its second location in Dallas this fall. The new bar and nightclub will be nearly three times the size of its Austin counterpart, with a cocktail bar and patio bar, a DJ-run dance club, and a 25-and-over-only underground bar called Ruby. Room, named after Dallas' infamous Jack Ruby.
Andy Anderson of Restaurant Properties Group represented Jill bresnan, the seller of an independent restaurant building at 960 W. FM 544 in Wylie. The property is being redeveloped for a new restaurant concept. CBRE represented CEMT Properties, the acquirer.
North Texas Veterinary Clinic moved their practice to a new 5,994 square foot facility at 110 Wall Price Road in Keller. Jimmy Pham of Concept Commercial Realty represented both the tenant and the owner.