By John P. Calamos, Sr.
Amid its unprecedented challenges, 2020 has confirmed long-held truths about the resilience of the economy and markets. For investors, the year also reinforced the benefits of a long-term view, diversification and active management. Below, I explain why these principles will be equally essential for successful asset allocation in 2021 and beyond.
The economy and the markets are finding a way to overcome unprecedented challenges. Over the years, we have often reflected on humanity's ability to adapt and innovate in the face of obstacles, even those that seemed insurmountable. As the pandemic took hold, central banks and governments acted decisively to support financial markets, businesses and households. Thanks to this intervention, liquidity was quickly restored to the markets. These programs have also encouraged many companies to seek capital, with new issues offering long-term investment opportunities and boosting markets. In the global convertible market, for example, new issuance for 2020 totaled nearly $159 billion — the highest amount since 2007 — and included many new issuers. Meanwhile, many companies have capitalized on technological innovation to quickly transition to a new "at home" reality. Finally, on the medical front, ingenuity and determination have resulted in improved treatments and promising vaccines in record time. Against this backdrop of ingenuity and innovation, markets have rallied from their first quarter lows. U.S. and global equities and convertibles ended 2020 with strong returns, and high yield and investment grade bonds also delivered strong returns (Chart 1).
Figure 1. Global markets: navigating the uncertainty of 2020, looking ahead
Total return, 2020 (%)
Past performance does not guarantee results. Source: MorningStar. Indices are unmanaged, do not include fees or expenses, and are not available for direct investment.
Market timing is dangerous. One of the key lessons of 2020 was simple: don't try to time the markets. You'll probably end up catching the downsides, but missing out on the upsides. In 2020, investors entering and exiting the market could have been very disappointed with the results. Figure 2 compares two different hypothetical investments in the S&P 500 Index. If you had missed the index's best five days of performance in 2020, you would have seen your return go from a gain of over 18% to a loss. of almost equal magnitude.
Figure 2. A short-term perspective can have harmful long-term consequences
Return of the S&P 500, 2020 (%)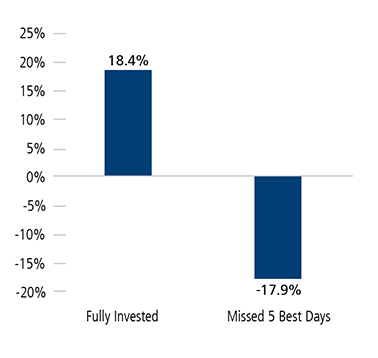 Past performance is not indicative of future results.
There are many good reasons to invest. Now is not the time to sit on the sidelines. Healing is yet to come, but the US and global economies are on a positive trajectory, providing a supportive environment for risky assets. Overall, US economic data continues to be better than expected, although momentum has slowed. Manufacturing activity, initial jobless claims and consumer activity have all rebounded impressively from their lows. The Federal Reserve is unlikely to deviate from its accommodative course. We expect inflation to pick up, but we don't think it will upset markets or prevent opportunities for the shrewd manager. (For more on our teams' outlook on inflation, see our articles, "Will Inflation Rise in 2020? Yes. Will It Be Insurmountable? No" and "Outlook on Growth and inflation expectations in a post-Covid world".)
A business-friendly approach to taxation and regulation has been a key market driver in recent years. With neither political party having a meaningful majority in the Senate, that could dampen the magnitude of fiscal policy shifts and, by extension, Wall Street anxiety.
Outside the United States, there are also reasons for optimism. As our global team has explained in recent commentaries and articles, an aggressive global fiscal and monetary response is likely to fuel a reflationary environment that has historically provided tailwinds to non-US equities, while countries like China benefit of their first entry, first experience of Covid.
Additionally, valuations are reasonable in many parts of the stock market, especially in light of earnings forecasts. As Figure 3 shows, S&P 500 constituents are expected to top their 2019 earnings in 2021.
Chart 3. Annual EPS of the S&P 500
Bottom-up consensus estimates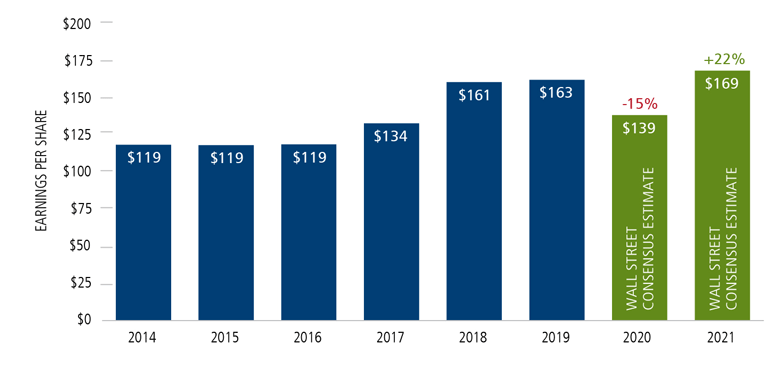 Source: Factset, Factset aggregates earnings estimates from Wall Street analysts who cover underlying companies within the S&P 500 to derive bottom-up consensus estimates.
In 2021, we believe active managers have the edge. There are huge upsides for many companies, but we expect continued market turbulence. The pandemic continues to cast a long shadow, and we are in a period characterized by transitions, accelerated disruptions and, as current events in Washington have once again demonstrated, heightened political divides. We expect these factors to fuel volatility, including market rotation.
Given the potential for shifts in fiscal policy and inflation, this is a market for stock and bond pickers, not one where "a rising tide will lift all boats." Fiscal policies and inflationary pressures will impact risks and opportunities for the business sector as a whole as well as individual sectors and industries. There will be winners and losers, and these are likely to change over time. Active managers with proven stock-picking disciplines are best positioned to navigate volatility and uncertainty, building positions in attractive names during short-term sell-offs or exiting positions before fundamentals deteriorate. . Passive managers cannot make such adjustments.
Review your small cap growth allocation. Large-cap and small-cap stocks have typically alternated market leadership, which is why it makes sense to include both in a well-balanced asset allocation, especially since leadership cycles can last. years. Over the past few years, large-cap stocks have dominated the markets, with "FAANG" stocks generating outsized returns. However, towards the end of 2020, small caps started to reassert themselves. (See "Small caps have rallied – Why we think there is more to come.") As the world nears the end of the global pandemic, expect to see the market pay more attention opportunities in the small cap space. We think the case is particularly strong for small-cap growth stocks, many of which offer very attractive fundamentals at attractive prices. Due to the idiosyncratic nature of small caps, active management and proven discipline are key, in my view.
Diversify globally. Many investors may enter 2021 with too little exposure to international markets, including emerging markets. Unprecedented levels of fiscal and monetary stimulus from governments and central banks, respectively, are likely to provide strong tailwinds for non-US businesses. Moreover, as co-CIO Nick Niziolek and co-portfolio manager Dennis Cogan explained last year, US dollar weakness has historically provided tailwinds to non-US assets, including stock markets. emerging.
Prepare for a steepening yield curve. Last month, our co-head of IT, Matt Freund, said: "With short-term rates well entrenched, long-term rates are expected to rise, but gradually. As a result, we expect the yield curve to steepens." While this may present headwinds for traditional fixed income strategies, there are still plenty of ways for an investor to diversify away from equities while being mindful of interest rate risk.
Alternative strategies can be used to enhance a traditional fixed income allocation. Our market-neutral income strategy aims for stable, bond-like returns without taking on much interest rate risk, with a history that spans over 30 years. Hybrid securities such as high yield bonds and convertible securities can also be an attractive choice for investors. For example, Figure 4 shows that convertible securities have demonstrated less vulnerability to rising rates than traditional fixed income securities.
Figure 4. Convertible bonds have outperformed traditional bonds in rising interest rate environments
Based on periods when the yield on 10-year U.S. Treasuries increased by more than 100 basis points

The performance data quoted represents past performance, which does not guarantee future results. Actual performance may be lower or higher than quoted performance. *Treasury yield at 10 years. Indices are unmanaged, do not reflect fees or expenses, and are not available for direct investment. Source: Morningstar Direct and Bloomberg. Most recent data as of 12/31/20. Periods of rising rate environment from lows to highs from October 1993 to November 2018.
Experience and adaptability matter. A year ago, no one could have predicted what 2020 would bring. I think the Calamos strategies were able to perform so well because our active approaches were guided by our teams' extensive experience in the markets, including a focus on downside risk management.
As 2021 progresses, markets will face continued challenges, but we believe volatility will continue to seed opportunities for the active, risk-conscious investment manager. Our teams look forward to pursuing these opportunities on behalf of those who have chosen our strategies to help them achieve their long-term financial goals.
Editor's note: The summary bullet points for this article were chosen by the Seeking Alpha editors.