The investment banking sector has seen a surge in activity following the reopening of global markets and the injection of stimulus packages by governments to mitigate the adverse effects of the COVID-19 pandemic. Most investment banks have resumed operating from offices and meeting clients in person again, albeit on a limited basis. Investment banks have begun to follow hybrid conference/roadshow strategies and use the latest technologies to realign and revamp deal origination strategies. Market liquidity should further fuel mergers and acquisitions (M&A) activity in the period ahead. Environmental, social and governance (ESG) trends are also worth watching as the world moves towards sustainable investing.
Here are the top trends to look for in 2022:
Trend 1: Sustainable finance is reaching new heights
Sustainable finance is not a new concept, but it is gaining popularity lately and taking new steps. Investors and stakeholders have shown more interest following the impact of the COVID-19 pandemic and events like the COP26 climate conference, where the world's major economies have announced their intention to work to achieve net zero carbon emissions. These events also propelled the growth of ESG investments in the market. Corporate stakeholders and investors are increasingly focusing on implementing mandatory ESG policies and regulations in their companies. Of all avenues, sustainability-linked bonds (SLBs) have exploded thanks to climate change commitments.
The first SLB was issued in 2019, with total global issuance reaching $8.2 billion at the time, according to Refinitiv. Since then, it has grown more than 11x to reach $92.9 billion in 2021. The growth trajectory is expected to continue as there is a growing focus on sustainability.
The sustainable debt market hit another milestone in August 2021, with new issuance reaching record highs and already exceeding total issuance by $765 billion in 2020.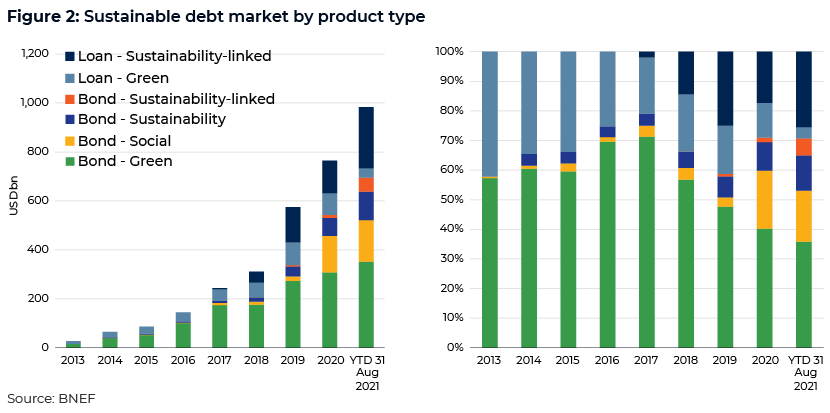 Green bond issuances take the lion's share of all sustainable investments; However, other avenues, such as social bonds and sustainability-linked loans, have also risen to prominence of late, giving issuers plenty of options to choose from in the ESG space.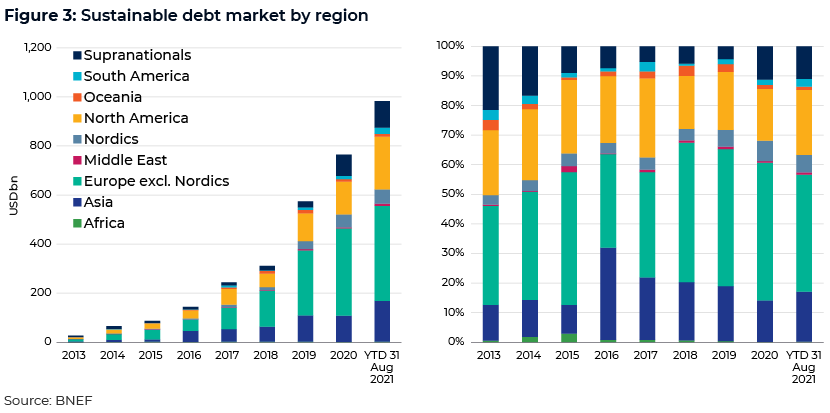 Sustainable market activity is thriving in regions across Europe, North America and Asia, with Europe accounting for the largest share in terms of activity.
Trend 2: High liquidity in the market, driving the sphere of mergers and acquisitions
Slowly fading uncertainties have restored confidence among business leaders for a quick and strong economic recovery, supported by positive GDP growth, better CPI rates and market liquidity, among others. Based on these positive sentiments, the market has witnessed a strong appetite for mergers and acquisitions.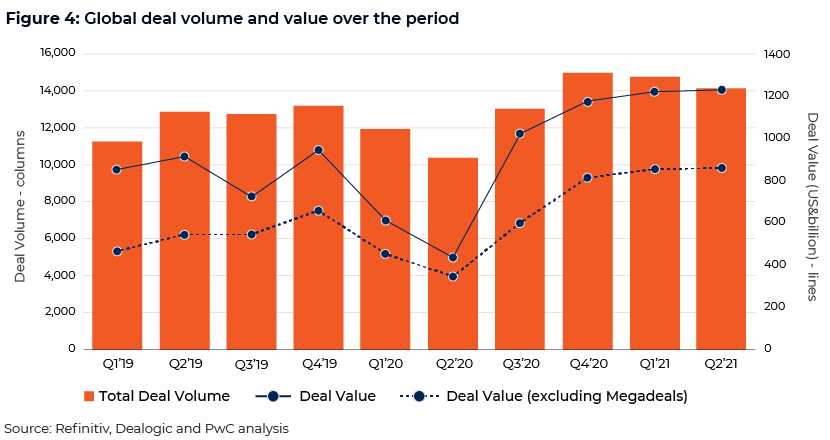 This is further aided by the availability of robust dry powder worth over $1.9 billion and is expected to be infused into the market in the short to medium term. In addition, nearly 400 special purpose acquisition companies (SPACs) are looking for an acquisition target globally, which will provide additional impetus for growth in the M&A landscape. The availability of capital is expected to maintain momentum through 2022.
The injection of fresh capital through SPAC, private equity investments and corporate acquisitions led to strong trading activity, generating total deal values ​​in excess of $1 billion per quarter in course of the last 12 months.
Trend 3: the ever-increasing purchasing power of SPACs
SPACs created a buzz in the market during the pandemic, but began seeing a boom in activity in early 2021, with a record 274 new listings during 1Q21. Over $80 billion was raised by SPACs in 1H21, mostly in February and March, exceeding the total amount raised in the full year 2020. This spike caught the attention of the Securities and Exchange Commission (SEC) , which introduced new financial reporting guidelines in April. Although this caused a temporary slowdown in business, the popularity of SPACs has persisted and is not expected to fade anytime soon.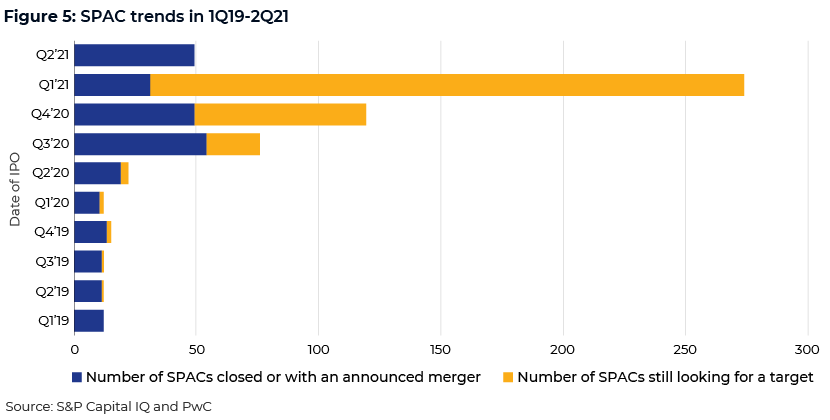 Available capital, along with a leverage option for 400 SPACs looking for a new goal (typically 18-24 months), will allow the deal to be advanced in 2022. New SPACs that will come to market the next year will further stimulate the conclusion of transactions. activity.
Trend 4: Capital markets activity is slowly returning to pre-pandemic levels
Equities continue to provide moderate returns in 2021 unlike 2020, but they continue to offer an attractive risk premium over bonds.
After an exceptional 1Q21 and 2Q21, the global IPO market experienced a slowdown, bringing activity levels back to pre-pandemic levels. Global IPO issuance in 3Q21 totaled $112.3 billion, down 8% from the same period last year. Markets including the UK and Europe were more active in 3Q21 compared to other markets globally.
A similar trend was also seen in the Debt Capital Market (DCM), which made a breakthrough in 2020 but was flat in 2Q21. Global corporate bonds were either flat or down in November, while government bonds rallied on concerns over the Omicron variant of the coronavirus. Moreover, it should remain stable as most central banks plan to raise interest rates to counter probable inflation.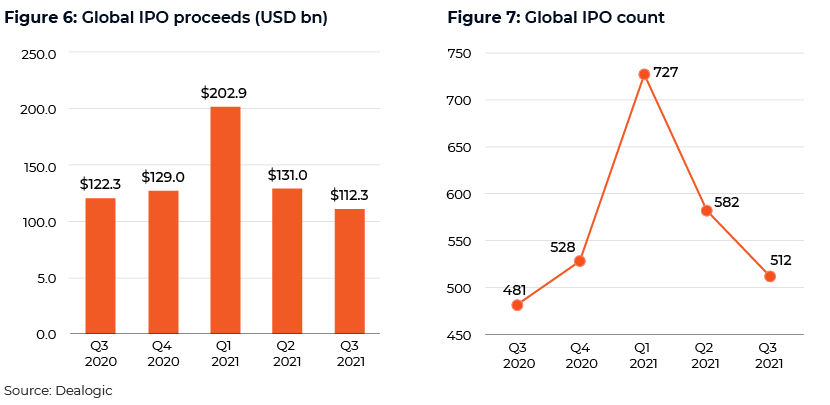 Trend 5: Increasing Momentum in Global Infrastructure Spending
Major economies around the world are realigning their strategies on infrastructure spending, especially post-COVID-19. Several new initiatives were taken during this period. They include the Build Back Better World initiative (a G7 global infrastructure initiative worth over $40 billion), a new infrastructure bill worth $2.3 billion passed by the US senate to revamp aging infrastructure in the US, the recent COP26 conference, the implementation of the EUR 1,000,000,000 European Green Deal and China is turning to infrastructure-focused stimulus measures (all as it did after the Great Recession of 2008). Infrastructure spending would be one of the main pillars to help revive pandemic-ravaged economies, even in 2022.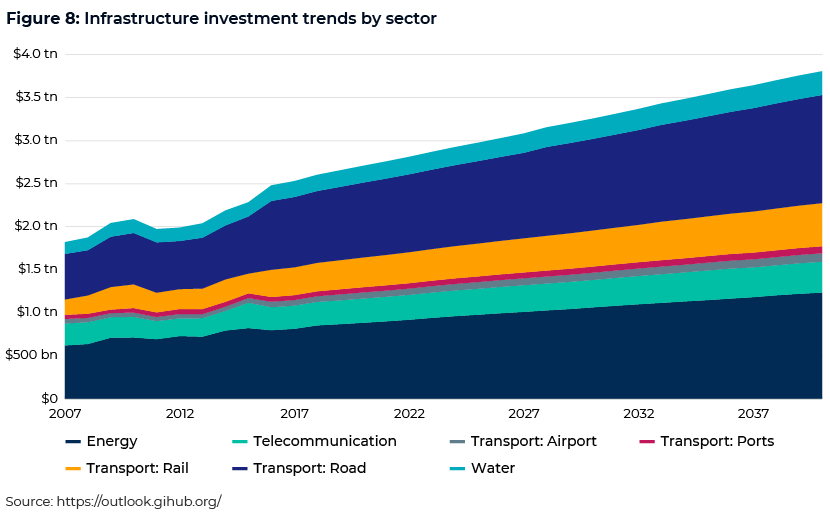 Trend 6: Accelerating transactions with artificial intelligence and predictive analytics
Investment banks aim to harness the power of artificial intelligence (AI) and machine learning to revamp the transaction process. These advancements may not be able to replace a human, but they can speed up the pace of the deal closing process by making information available much faster. If adopted quickly and widely, investment banks can greatly benefit in terms of closing deals in this tough competitive market. These tools also help minimize human error in complex documentation, along with other efficiency benefits. AI and bots provide a plethora of opportunities for investment banks. Many banks have worked to compile and leverage decades of data on their CRM platforms, which is used to study predictive auction ranges and spreads to help deal teams make informed decisions, in the goal of maximizing the success rate while reducing the time it takes to close deals. Banks can also get instant updates on customer and sponsor behavior using tools like Einstein Prediction Builder, Einstein Discovery, and Tableau CRM.
Trend 7: Attrition and shortage of talent leading to increased operational costs
With the increase in the number of transactions, investment banks are struggling with massive workloads and a shortage of qualified personnel. With seasoned bankers at all levels changing jobs in record numbers, banks are being forced to watch to keep employees from leaving. Banks generally expect around 5% of employees to leave after receiving their annual bonuses. However, this year HR departments are asking management to start preparing for more resignations, with perhaps around 10% of junior employees expected to leave the company after receiving their bonuses. The industry has seen significant turnover in talent and departures to pursue careers outside of investment banking.
The industry as a whole is going through a major problem of supply and demand imbalance, which should persist over the next few quarters. In response, banks are stepping up efforts to offer more benefits and introducing new measures, including faster promotions, higher bonuses, more hiring to reduce workloads and limited working hours. These measures may produce the expected benefits of retaining or attracting talent, but management must also be cautious about increased operational costs and margin impacts, as this could put a damper on their expansion plans. .